THERMOSEAL (KLINGER) GASKET MATERIAL, SHEETS & GASKETS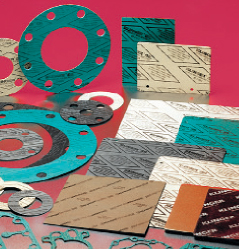 Thermoseal (Klinger) offers a variety of sealing materials, including compressed fiber sheet such as Klinger C4401 and C4433, flexible graphite sheet from pure HL style to SLS with its .002" thick 316ss foil insert, and PTFE products such as the top-chem chemical sheets (advertised as "maximum sealing with minimum creep"), soft-chem expanded PTFE sheet, and Sealex, 100% pure PTFE joint sealant. Take advantage of the Klinger Expert gasket design computer program.
Stocking distributor with a full line of Thermoseal's sealing products
KLINGER top-chem Top Quality Reinforced PTFE
Thermoseal soft-chem Expanded PTFE
Sealex Joint Sealant
Parts can be waterjet cut or die-cut, for all applications
Compressed Inorganic Fiber Gaskets, C-4433, C-4430, and C-4324
General Service Gaskets, C-4401, C-4300, and C-4201
C-4500 Carbon Fiber Gaskets
Chemical Resistant Gaskets, C-7400 and C-8200
Neoprene and SBR Binder Gaskets, C-5400, C-6327, and C-6400
Metal Reinforced Gaskets, C-4439, C-4509, C-4409, and C-4408
Milam Laminate Sheeting
Anti-Stick Coating Available, "AS"