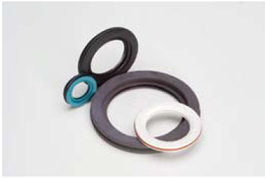 Rotary Lip Shaft Seals - Parker
The Parker FlexiLip is a rotary lip seal that seals dynamically on the shaft, and seals statically in the bore with an elastomeric O-ring on its ID. The seal can function at much higher surface speeds (to 5000 sfpm). The Parker FlexiCase rotary lip seal has an ID lip that seals dynamically on the shaft, with metal casing on its OD to seal statically press-fit into the bore. The lip is not spring-energized and the radial lip contact forces are low, so that the seal can function up to 10,000 sfpm.
Wide variety of composites and plastics
Non-spring energized lips
PTFE components can withstand most chemical applications
Inch and metric gland geometries available
Great versatility, for use in a wide range of applications
Precision machined seals & bearing isolators
For use in applications where conditions exceed elastomeric seal capabilities
Low tooling costs on FlexiLip
Low costs and high production capabilities for the FlexiCase
Downloadable PDF Files

PTFE Lip Seals- FlexiSeal Rod & Piston Seals, FlexiSeal Face Seals, FlexiSeal Rotary Seals, FlexiLip Rotary Seals, FlexiCase Rotary Seals, Chemical Compatibility.
Parker PTFE Fluid Power Seals-Linear Pistol Seals, Linear Rod Seals, Linear Rod Seals, Linear Rod Wiper, Rotary Bore Seal, Rotarty Shaft Seal.
Parker Rotary Seals-Clipper Oil Seals, Parker Oil Seals, Shaft Sleeves, ProTech Bearing Isolators, FlexiLip, FlexiCase, FlexiSeal Rotary, V-Seals and Excluders.